THIS IS A SMALL SAMPLING OF WHAT WE HAVE IN OUR STORE
To get the "right fit", color or style… special request orders are always encouraged and at no additional cost. Restocking orders and special requests are placed every Tuesday and Friday.
---
Algeria – JOL 429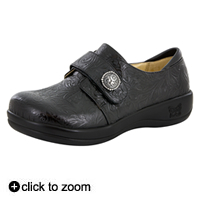 Just when we thought it couldn't get any better! The loafer-style Alegria Joleen Tar Tooled features a stylish buckle with an adjustable velcro closure and a comfy padded collar. Cousin to the Alegria Alli, but fits more like it's other cousin Keli. The textured napa leather upper is a dark black tar color, and the slip resistant lightweight outsole features a slim silhouette. Loaded with cork, memory foam and latex, the removable footbed creates a perfect fit by forming to the natural contours of your foot. With superior arch support and plenty of room in the toe box, the Alegria Joleen Tar Tooled can keep your feet happy even after the workday is done.
Adjustable hook and loop closure across vamp allowing for a custom fit
Lab rated slip resistant outsole and stain-proof leather coating
Leather covered insole allows for your feet to naturally breathe, leaving them feeling fresh and dry
Cork, memory foam and polyurethane loaded footbed creating a 'perfect fit' by forming to the natural contours of your foot
Removable footbed, uses our Classic footbed style (you can even insert your own orthotics!)
Comfort outsole featuring a lightweight, slim silhouette
Leather lined interior with superior arch support, and padded Achilles heel
Suitable for casual wear and also perfect for occupational fields for its ability to provide comfort and support
Heel height: 1.25″
---
Algeria – Paloma Collection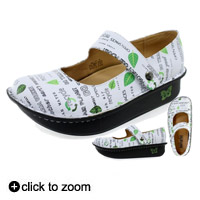 Alegria Women's Paloma Mary Janes feature an adjustable velcro strap makes this a great fitting shoe for regular or wide width. Adorable and versatile, the Alegria Paloma Mary Janes looks great with skirts and dresses for women all ages.
Great Button Detail Adds Just A Touch Of Playfulness
Adjustable Velcro Strap.
Mild Rocker Outsole
Removable Patented Interlocking Footbed System.
Superior Arch Support
Leather Lining And Hand Sewn
---
Algeria – KEL 601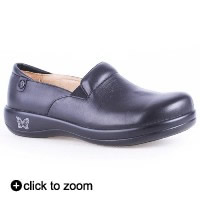 Professional Slip-on Nursing shoe featuring a printed Black Nappa design on genuine leather.
Elastic at the instep allows for a secure fit
Lab rated slip resistant outsole and stain-proof leather coating
Leather covered insole allows for your feet to naturally breathe, leaving them feeling fresh and dry
Cork, memory foam and polyurethane loaded footbed creating a 'perfect fit' by forming to the natural contours of your foot
Removable footbed (you can even insert your own orthotics!)
Career fashion outsole featuring a lightweight, slim silhouette.
Hand sewn, leather lining, superior arch support, and plenty of room in the toe box
Suitable for casual wear and also perfect for occupational fields for its ability to provide comfort and support