THIS IS A SMALL SAMPLING OF WHAT WE HAVE IN OUR STORE
To get the "right fit", color or style… special request orders are always encouraged and at no additional cost. Restocking orders and special requests are placed every Tuesday and Friday.
---
Red Wing – 8700 Slip-on
Look no further than the Red Wing 8700 Slip-On work shoe when you're in need of that's not only durable, but ready to get to work as soon as you are. Created with Black Star Leather as well as constructed with unique Opanka; these 8700 slip-on work shoes also come with custom static dissipating feature to ensure safety for you and your feet for as long as you wear them. Designed with a Non-woven SD insole and a black forager outsole.
LEATHER: Black Star Leather
CONSTRUCTION: Opanka
INSOLE: Non-woven SD
LAST: 225
OUTSOLE: Forager – Black
CARE PRODUCTS: Shoe Cream,Leather Protector
SHANK: Non-metallic
NON-MARKING: No
DEFINED HEEL: No
---
Red Wing – 6692 Chuka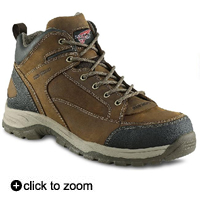 LEATHER: Gaucho Crazy Horse Leather
CONSTRUCTION: Cement
INSOLE: Non-woven
LAST: 228
OUTSOLE: Rubber Ranger
CARE PRODUCTS: Leather Protector, NaturSeal™
SHANK: Non-metallic
NON-MARKING: Yes
DEFINED HEEL: Yes
---
Red Wing – 6672 Athletic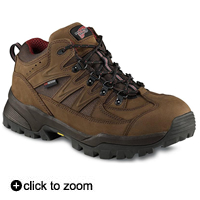 LEATHER: Hazelnut Tramper Leather
CONSTRUCTION: Cement
INSOLE: Texon®
LAST: 221
OUTSOLE: Vibram® Summit TC-4 Plus
CARE PRODUCTS: Leather Protector, NaturSeal™
SHANK: Steel
NON-MARKING: Yes
DEFINED HEEL: Yes
---
THE HISTORY BEHIND THE BECKMAN STYLE
In the early twentieth century, Red Wing, Minnesota had only a few dirt roads. In the winter, or after a good rain, those streets would get muddy, making a good pair of boots a necessity. But our founder, Charles Beckman, a respectable businessman, wanted a pair he could brush off and wear right into his shoe store on Main Street. So that's what his Red Wing Shoe Company made—sturdy, versatile footwear that could take some abuse and still look good. And that's the kind of shoes and boots we've been making ever since.
Red Wing Heritage – Beckman Round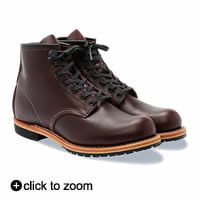 Part of the Beckman collection, the 9011 is a 6-Inch, round toe style boot made from our exclusive Black Cherry Featherstone dress leather. Classic in look, a bit of polish keeps them looking sharp.
---
THE HISTORY BEHIND THE IRON RANGER STYLE
The early history of iron mining on Minnesota's Mesabi Range is intertwined with that of Red Wing Shoe Company. The miners needed tough but comfortable boots that could stand up to the long days and tough conditions a northern Minnesota mine pit presented. Red Wing responded with a boot made of thick leather with an oil resisting outer sole, speed lacing hooks, and a comfortable cork midsole. The defining characteristic of these boots though, was their double layered toe, capped to protect the miner's feet from injury as they labored with hand tools and heavy machinery. That boot is still made today, the fittingly named Iron Ranger, and it represents not only Red Wing's commitment to making boots for working men and women but also its Minnesota origins.
Red Wing Heritage – Iron Ranger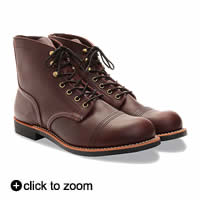 The Iron Ranger 8119 is a rugged 6-Inch boot, featuring premium Oxblood Mesa leather, bronze hardware, speed hooks, Goodyear welt construction and triple stitched quality. Its double layer leather toe cap, leather heel pocket and Vibram 430 Mini-lug outsole make it a favorite.
---
THE HISTORY BEHIND THE CHUKKA STYLE
Work boots aren't always made for heavy lifting in harsh environments. Our Classic Chukka was designed for indoor work where a lighter weight boot is more comfortable and a more pliable sole is better suited for bending, climbing and kneeling and won't scratch or mark a wood floor.
Red Wing Heritage – Classic Chukka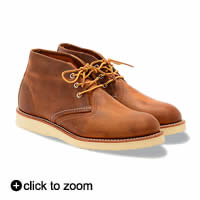 Rugged in heritage and casual in appearance, the 3137 features Red Wing's signature Atlas Tred polyurethane outsole, premium Copper Rough & Tough leather and Goodyear welt construction for the perfect lightweight, comfortable boot.