THIS IS A SMALL SAMPLING OF WHAT WE HAVE IN OUR STORE
To get the "right fit", color or style… special request orders are always encouraged and at no additional cost. Restocking orders and special requests are placed every Tuesday and Friday.
---
Wolverine – 1000 Mile Boot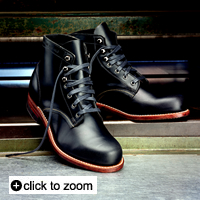 Crafted with the same attention to detail found in the original, Wolverine's 1000 Mile Boot is the cornerstone of the collection. Made in America and featuring top quality Horween Chromexcel® Leather, a stacked leather outsole and classic welt construction, the 1000 Mile Boot has been meticulously designed to replicate the original's aesthetic.
---
Wolverine – Evans 1000 Mile Boot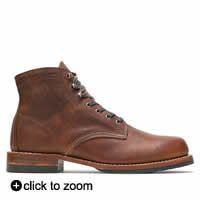 • Handcrafted in the USA
• Upper made from premium leather from Horween Leather Company in Chicago, Illinois
• Leather outsole with Vibram® rubber forepart and heel for traction and durability from Williamsport, Pennsylvania
• Flat waxed cotton laces from Landrum, South Carolina
• Archival pattern recreated from the first Wolverine 1000 Mile shoe introduced in 1914, updated with highly functional Vibram® rubber
• Time-tested Goodyear™ welt construction is durable, flexible and allows the boot to be resoled for years of wear • Handcrafted in the USA
• Upper made from premium leather from Horween Leather Company in Chicago, Illinois
• Leather outsole with Vibram® rubber forepart and heel for traction and durability from Williamsport, Pennsylvania
• Flat waxed cotton laces from Landrum, South Carolina
• Archival pattern recreated from the first Wolverine 1000 Mile shoe introduced in 1914, updated with highly functional Vibram® rubber
• Time-tested Goodyear™ welt construction is durable, flexible and allows the boot to be resoled for years of wear
---